Mechanisms
4th Trilateral Cultural Ministers' Meeting held in Shanghai, China
2012.05.05 ~ 2012.05.06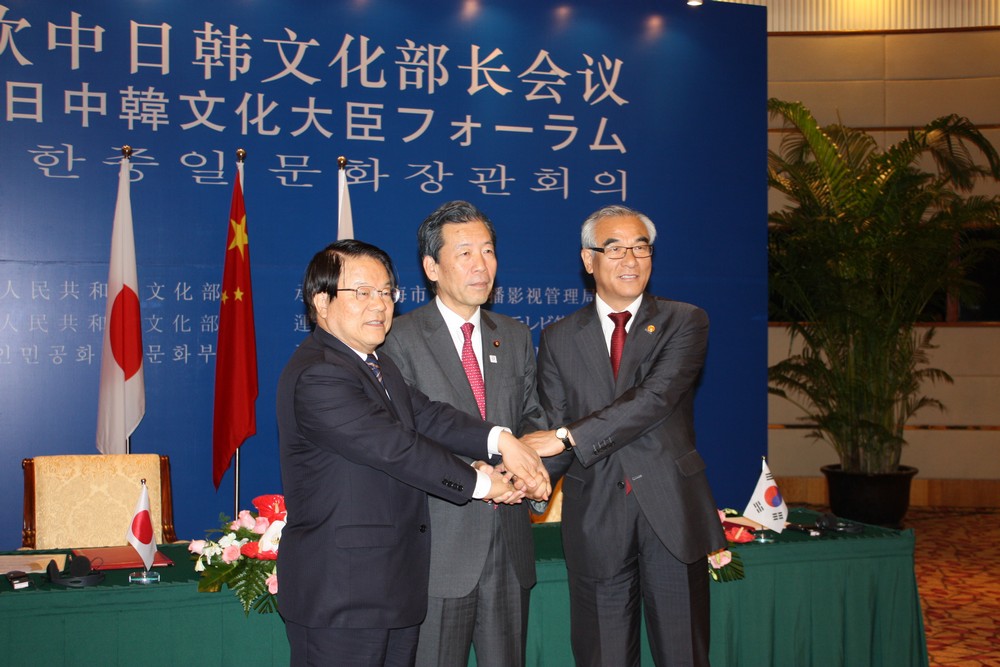 Mr. CAI Wu, Minister of Culture of China, Mr. CHOE Kwang-sik, Minister of Culture, Sports and Tourism of ROK and Mr. HIROFUMI Hirano Minister of Education, Culture, Sports, Science and Technology of Japan, attended the meeting. The Shanghai Action Plan of the Trilateral Cultural Ministers' Meeting (2012-2014) was signed at the meeting to strengthen cultural exchanges among the three countries.
It is the first time the three countries have agreed to adopt the Action Plan instead of the Declarations issued at previous three trilateral cultural ministers' meetings. The new Action Plan is more detailed and practical to realize cooperation in a concerted effort, and is expected to illustrate widening cultural cooperation among the three countries.
The Action Plan covers the selection process of "East Asia Cultural Cities", future "East Asia Arts Festivals", cultural activities to be held for the Trilateral Summit Meeting and promoting communication and cooperation on cultural relics and intangible cultural heritage protection, as well as strengthening exchanges and cooperation in the cultural industry.
To celebrate the meeting, the "Asia Gallery Art Fair ― Trilateral Fine Art Gallery Exhibition" was held in Shanghai Exhibition Center by more than 50 representative contemporary art galleries among the three countries, in order to promote exchanges and cooperation in activating and standardizing the cultural and art market of the three countries.