TC Activities
TCS Held 7th Trilateral Journalist Exchange Program in Seoul
2022.07.31 ~ 2022.08.05
The Trilateral Cooperation Secretariat (TCS) hosted the 7th Trilateral Journalist Exchange Program in South Korea from July 31 to August 5, 2022, under the theme of "Solutions Journalism for a Sustainable Future-Building." This is the first offline program TCS has hosted ever since the pandemic. 12 reporters, 10 speakers and commentators from China, Japan and the Republic of Korea joined the program.
Through multiple lectures, reporters have acquired the knowledge on Solution Journalisms, especially with the focus on the two topics "Disaster Risk Management" and "Descending Mutual Perception." By focusing on the response to a social problem in an objective way, reporting with evidence and insights to the response, Solutions Journalism intents to increase the circulation of knowledge necessary for the citizens. In addition, through in-depth discussions, reporters have become more and more mindful of a sense of mutual perception among the three countries.
During the program, reporters have also gained a better understanding of the Trilateral Cooperation and TCS. Speaking at the closing ceremony, TCS Secretary-General OU Boqian gave emphasis on the profound importance of Trilateral Cooperation under current dynamic changes of regional and international landscapes, highlighted TCS' efforts to harness the common culture assets to foster a solid foundation of public opinion for the good of the lasting peace and common prosperity of the region, and called for joint endeavors of media community towards a amicable and future-oriented trilateral relationship. The week-long TJEP program includes offline lecture on Solutions Journalism provided by LEE Kyuwon from the Solutions Journalism Network; an online lecture on Introduction on Disaster Risk Reduction & Cooperation in East Asia by Prof. Rajib SHAW from Keio University, Japan; media training at the UNDRR Office for Northeast Asia (ONEA) and Global Education and Training Institute (GETI) for Disaster Risk Reduction by Sanjaya BHATIA, Head of UNDRR ONEA & GETI; online lecture on Descending Mutual Perceptions among CJK People and Reasons Behind by YANG Bojiang from the Chinese Academy of Social Sciences; an offline lecture on Common Cultural Assets as Incentives on Mutual Perceptions by ZHOU Yubo, CEO of People's Daily Online Korea, and SAKAGUCHI Hirohiko, Seoul Bureau Chief of the Mainichi Newspaper; and an offline lecture on Ways for Media to Address the Issue of Descending Mutual Perceptions by LEE Jeonghwan, CEO of Media Today.
The TJEP was initiated by TCS in 2014 to enhance CJK journalists' understanding of the three neighboring countries, and to foster an amicable atmosphere for Trilateral Cooperation and trilateral media cooperation. It operates in various forms like workshops, symposiums, field visits and joint interviews around the three countries. So far, TCS has organized six rounds of TJEP till 2019 and an online symposium in 2021. About 100 media practitioners from the three countries have benefited from this program.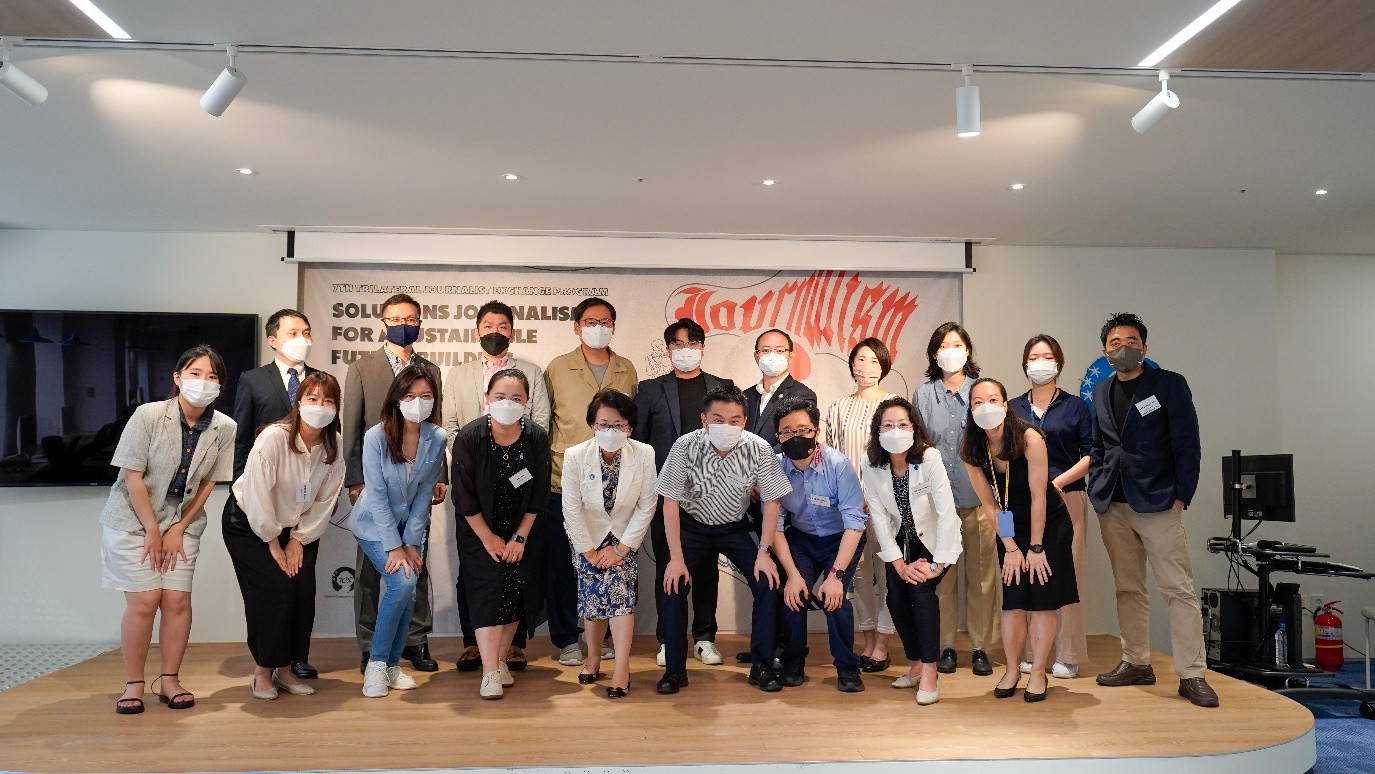 ▲Group photo at the opening ceremony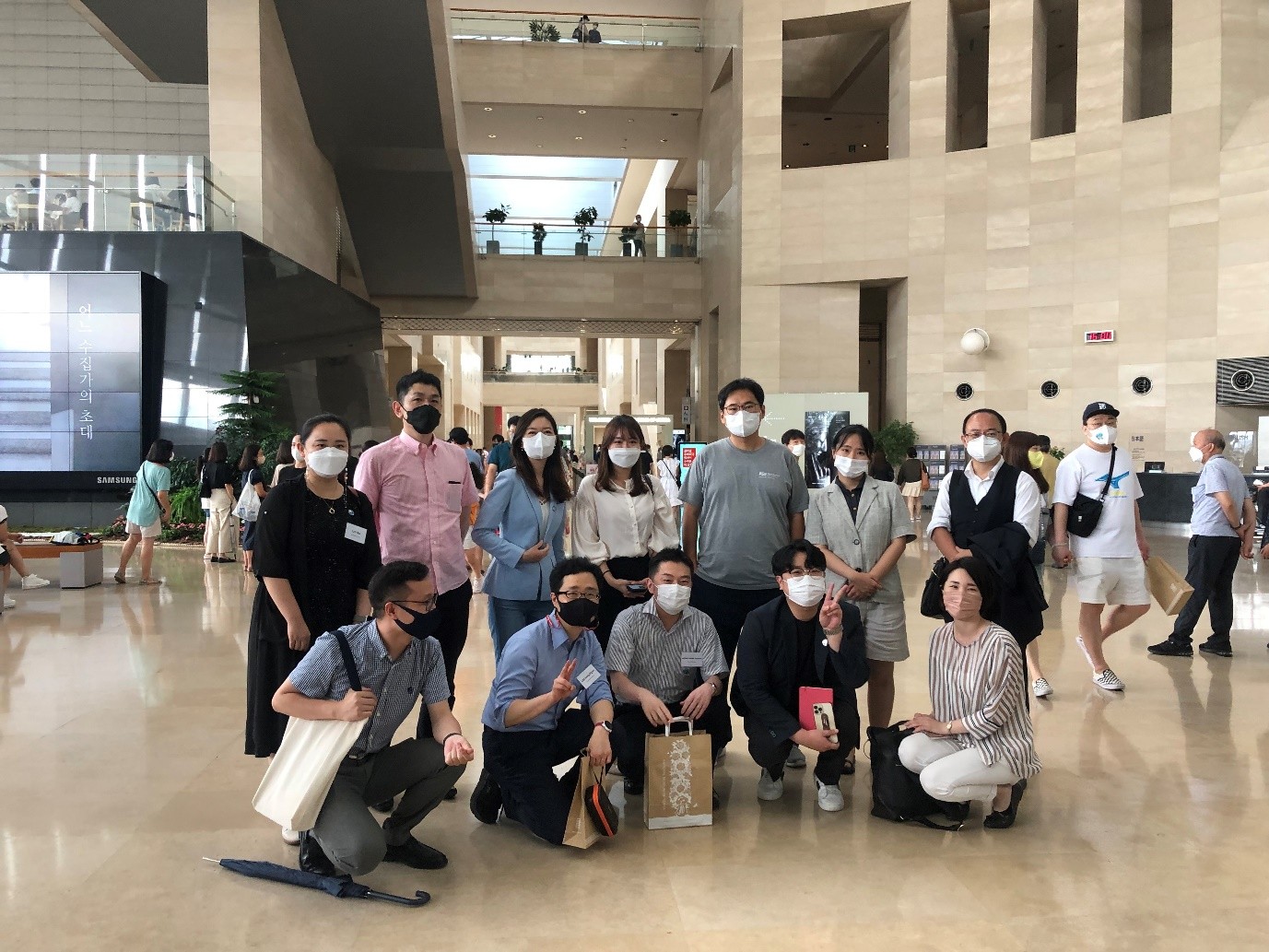 ▲
Reporters visit the National Museum of Korea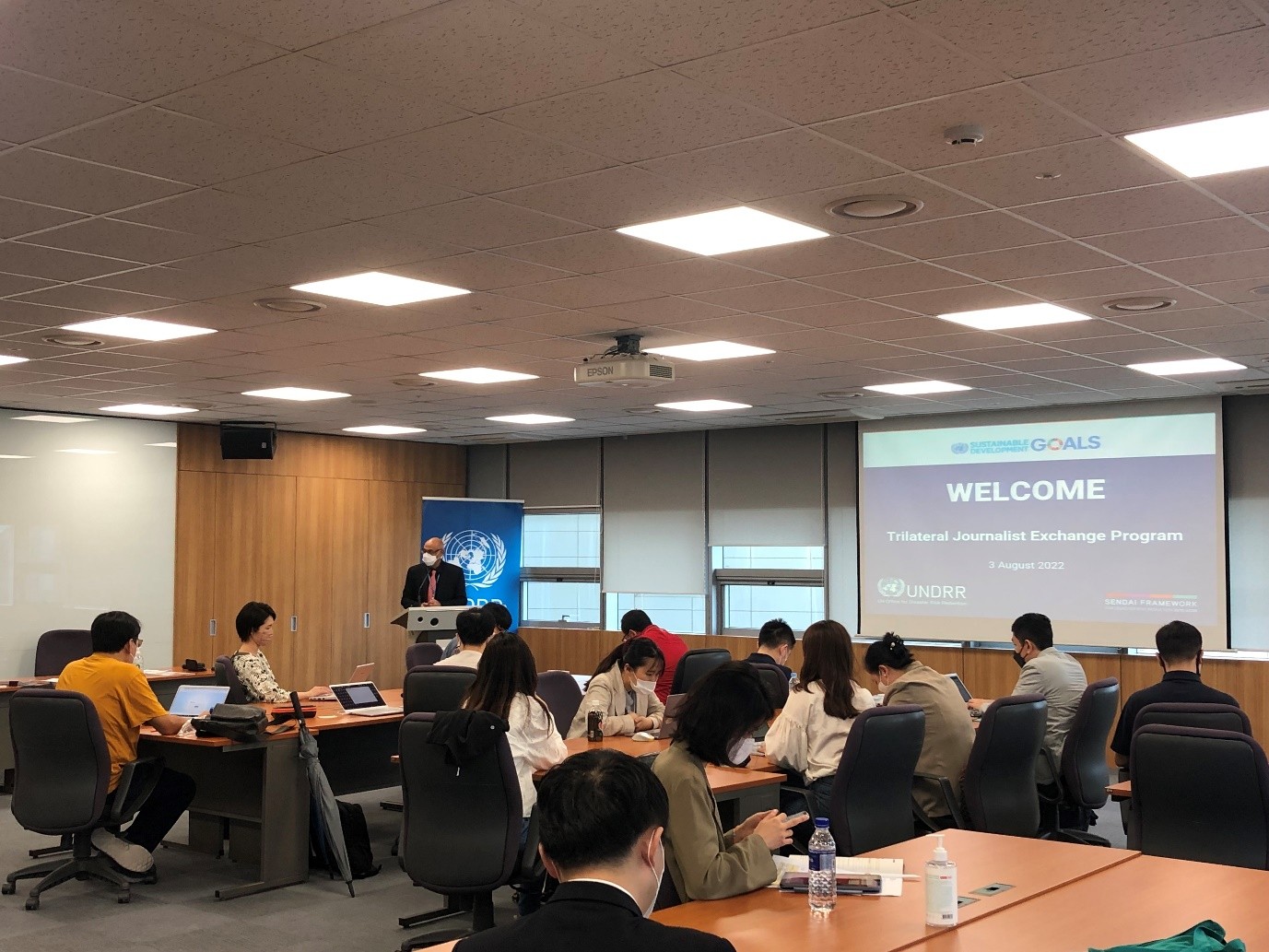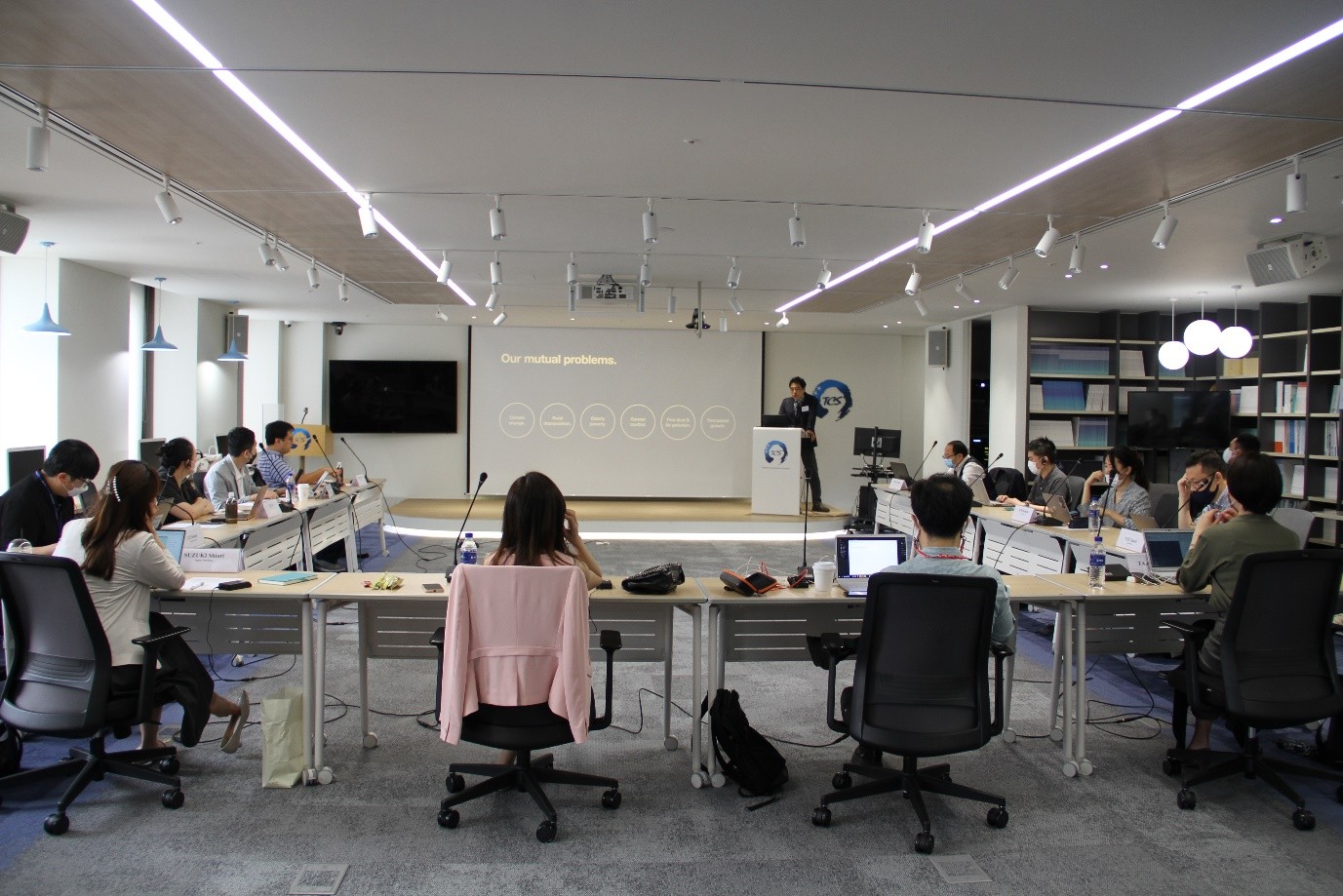 ▲
Solution Journalism training at TCS office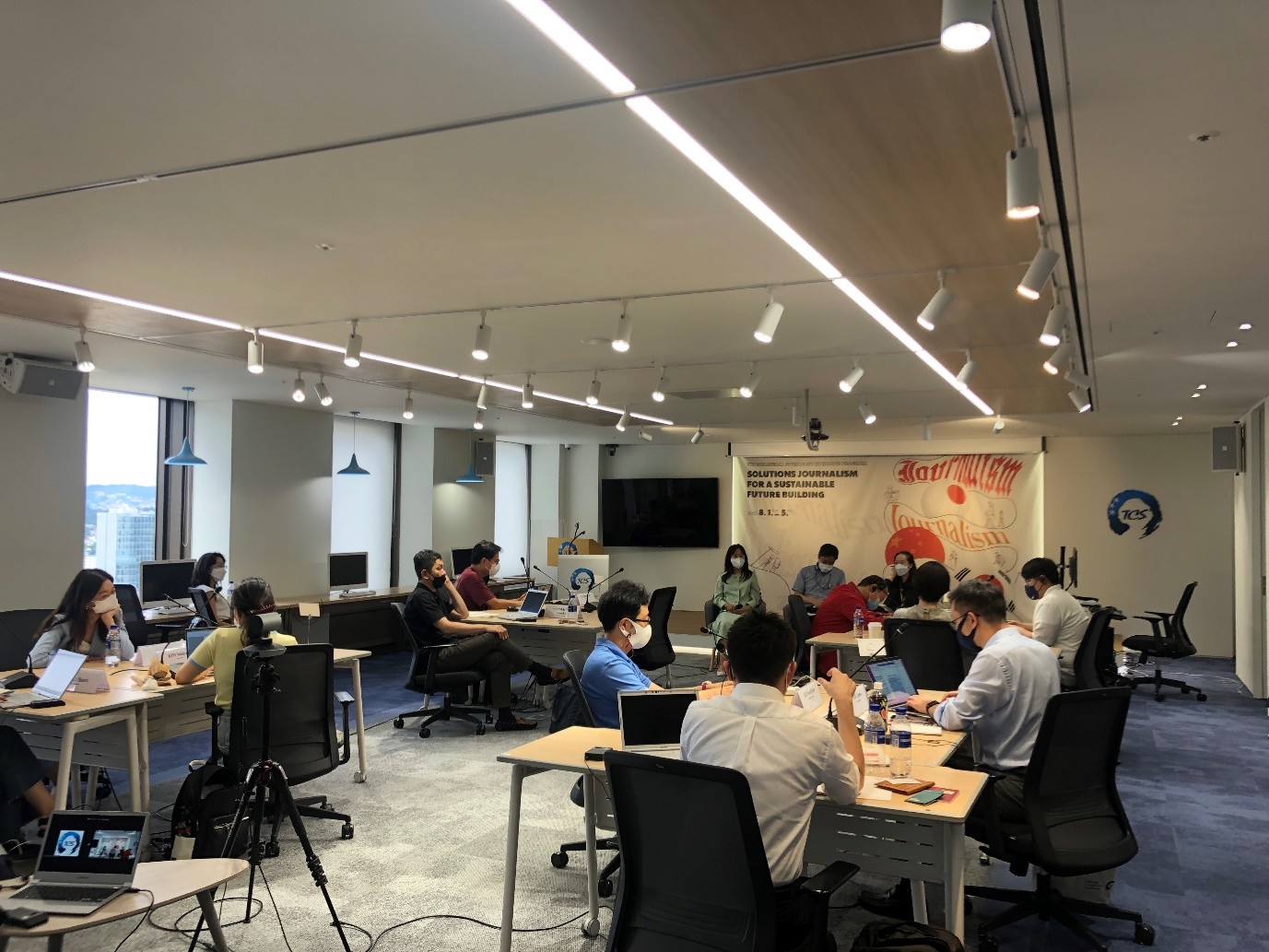 ▲
Lectures on mutual perception at TCS office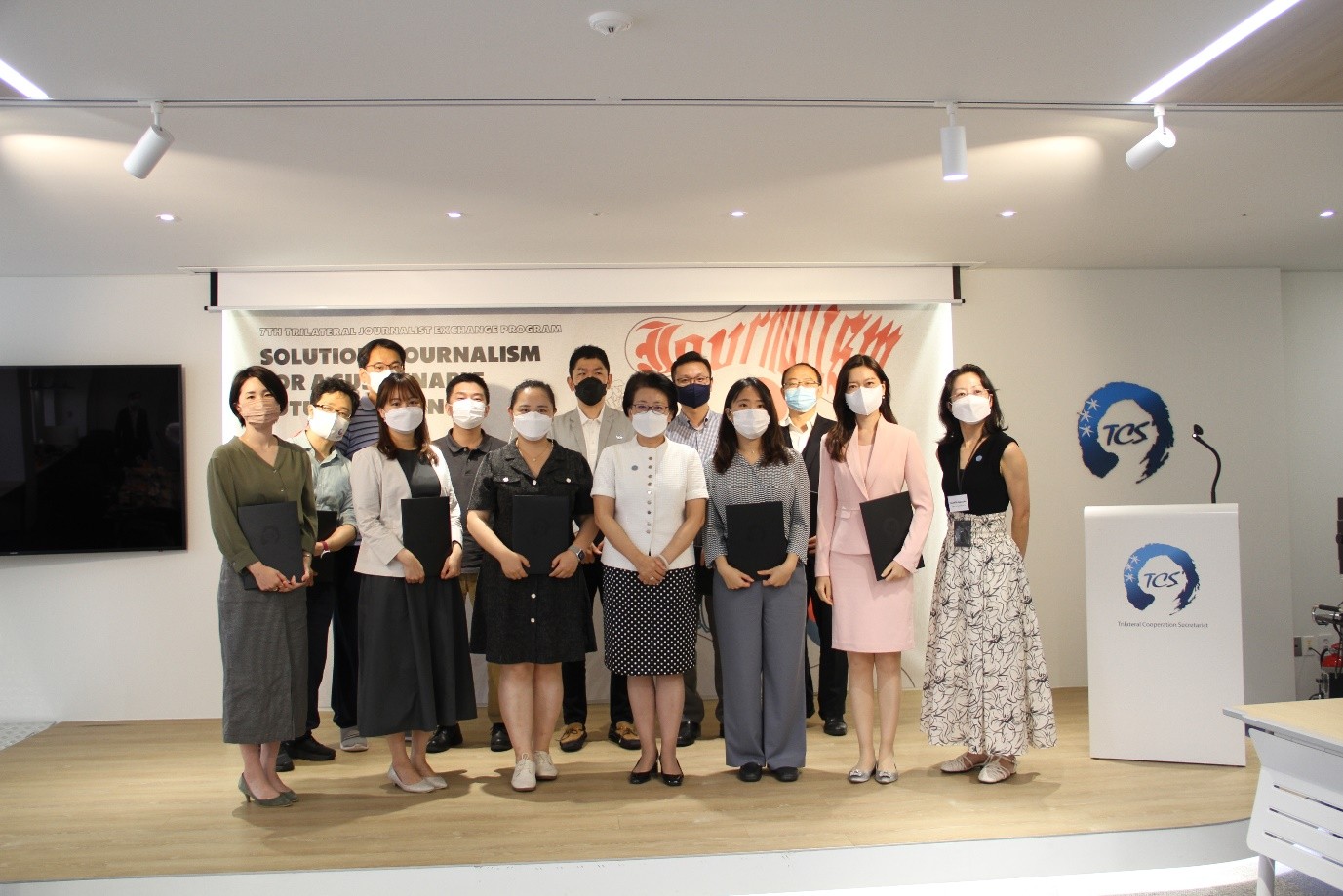 ▲
Group photo on Closing Ceremony