Others
TCS Secretary-General OU Boqian Visited Busan Foundation for International Cooperation
2022.05.03
On May 3, 2022, Trilateral Cooperation Secretariat (TCS) Secretary-General Amb.OU Boqian paid a visit to Mr. CHUNG Jongpil, Secretary-General of the Busan Foundation for International Cooperation (BFIC).
SG CHUNG extended appreciation for SG OU's visit to BFIC. He briefed on the history and achievements by reviewing the strategic tasks of BFIC, as well as efforts on promoting public diplomacy and enhancing mutual understanding among local and foreign residents in Busan. He expressed his readiness to join hands with TCS for future cooperation. He appreciated SG OU for the keynote speech at the 2021 Busan Public Diplomacy Forum and invited her to join them at the 2022 Busan Public Diplomacy Forum, which will be held on June 30.
SG OU expressed sincere gratitude for the meeting and introduced TCS's main functions, emphasizing that TCS will cooperate closely with other public and private sectors to ensure the region in fostering a spirit of "lasting peace, common prosperity and shared culture". Furthermore, she highlighted the accomplishments in the past 10 years made by TCS and briefed on the relevant activities including the Young Rural Leaders' Exchange Program, and Trilateral Youth Exchange Network (TYEN). SG OU also invited SG CHUNG to the annual flagship event of TCS, International Forum for Trilateral Cooperation, which will take place on June 14.
Both sides showed keen interest in expanding further cooperation, especially in the public relation area.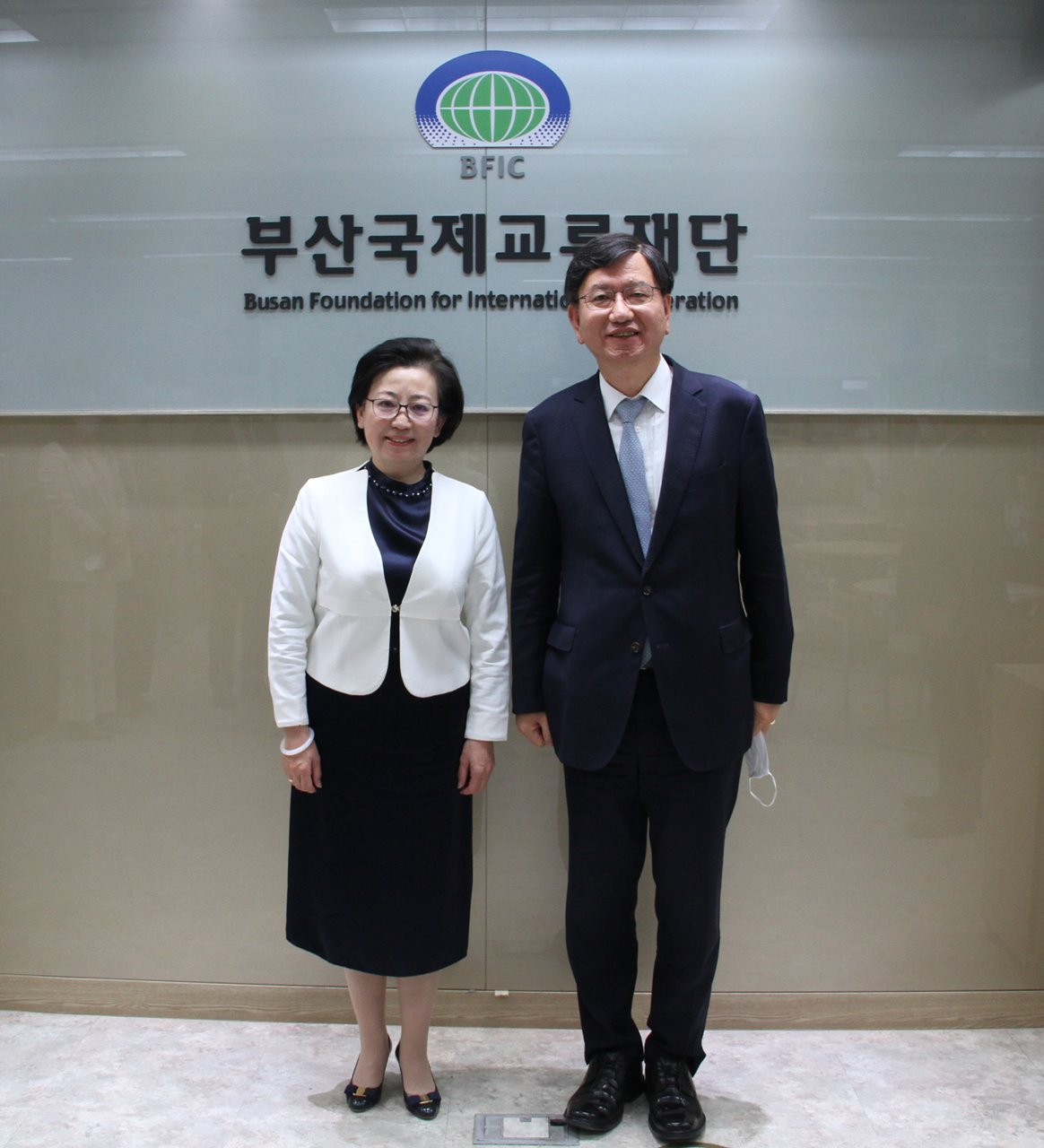 ▲ CHUNG Jongpil, Secretary-General of Busan Foundation for International Cooperation (BFIC) and OU Boqian Secretary-General of TCS