Others
TCS Board Paid a Courtesy Call on Former UN Secretary-General BAN Ki-moon
2021.10.28
On 28 October, TCS Secretary-General Amb. OU Boqian and Deputy Secretaries-General BEK Bum-hym and SAKATA Natsuko paid a courtesy call on Former UN Secretary-General BAN Ki-moon, currently serving as the chairman of the Ban Ki-moon Foundation For a Better Future. Former Amb. CHOI Sung-joo was also in attendance. They exchanged views on the significance of the trilateral cooperation among China, Japan and Korea and ways to promote a sense of mutual respect.
Chairman BAN welcomed the TCS delegation and congratulated them on assumption of office as the 6th Board of TCS. He averred that the new board has assumed a very important responsibility of promoting trilateral relations, differences in opinions or systems notwithstanding. In doing so, he suggested that one must not lose sight of a broader and wider perspective that can apprehend future-oriented visions suitable for the 21st century. He expressed his wish for TCS to play a bigger role in the regional society by enhancing communication with the three governments and submitting joint recommendations to them. He pledged his full support to TCS for its activities.
SG Amb. OU thanked Chairman BAN for his support and agreed that the TCS should strive to plan a better future for the region. Highlighting that TCS stands as the only institutionalized intergovernmental mechanism in Northeast Asia, she stressed her commitment to increase the purview of TCS through promotion of commonalities among the three countries.
DSG BEK, DSG SAKATA and Amb. CHOI also shared their insights.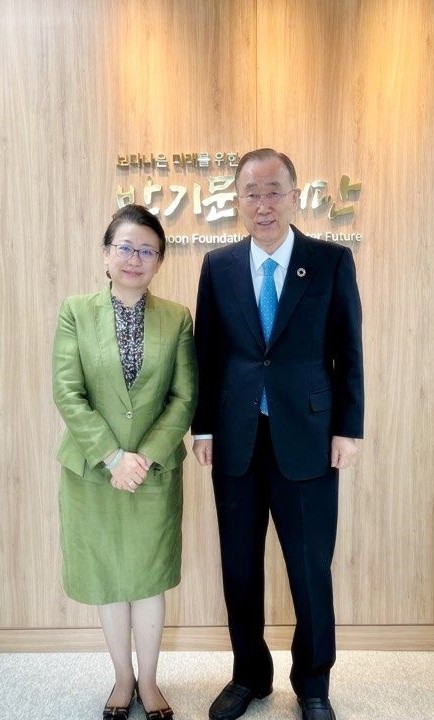 ▲SG Amb. OU Boqian with Former UN SG BAN Ki-moon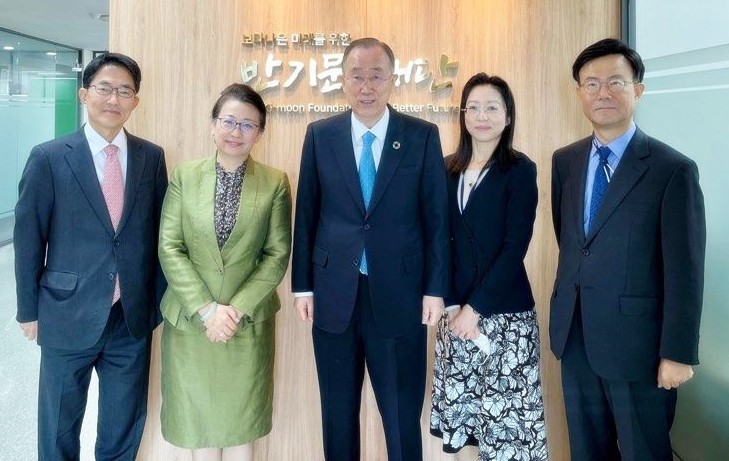 ▲Group Photo (from left: TCS DSG BEK Bum-hym, SG Amb. OU Boqian, Former UN SG BAN Ki-moon, TCS DSG SAKATS Natsuko and Amb. CHOI Sung-joo)