Others
Secretary-General Amb. OU Boqian Met with the ROK-stationed Chief Correspondents of China News Service and Economic Daily (China)
2021.11.02
On November 2, 2021, TCS Secretary-General Amb. OU Boqian met with Ms. LIU Xu, Chief Correspondent of China News Service and, Mr. YANG Ming, Chief Correspondent of Economic Daily (China). They exchanged views on public opinions among the three countries and explored potential cooperation.
SG OU shared her concerns over the negative mutual perceptions among the CJK countries especially among the young populations, and committed her term in the TCS to putting more emphasis on facilitating two-way communication and mutual understanding among the CJK peoples in which the youth will be the focus, so to improve civil exchanges and cooperation, and create good atmospheres for the summits and ministerial meetings and practical cooperation in politics, security, economy and socio-culture. She expected to convey through TCS efforts the core messages of commonality and cooperation, so to forge joint security, common prosperity and shared cultures among the three peoples and countries. Mentioning the history and operation of the TCS, she sought for continuous support from the China News Service and Economic Daily (China) to cover TCS events and activities, and jointly promote mutual understandings and cooperative atmosphere in the region.
Ms. LIU and Mr. Mr. YANG congratulated SG OU on her assumption of office, and contributed their observations on public opinions and international relations in the region. They pledged their agencies' willingness to closely work with the TCS especially on how to address negative mutual perceptions among the three countries' youth.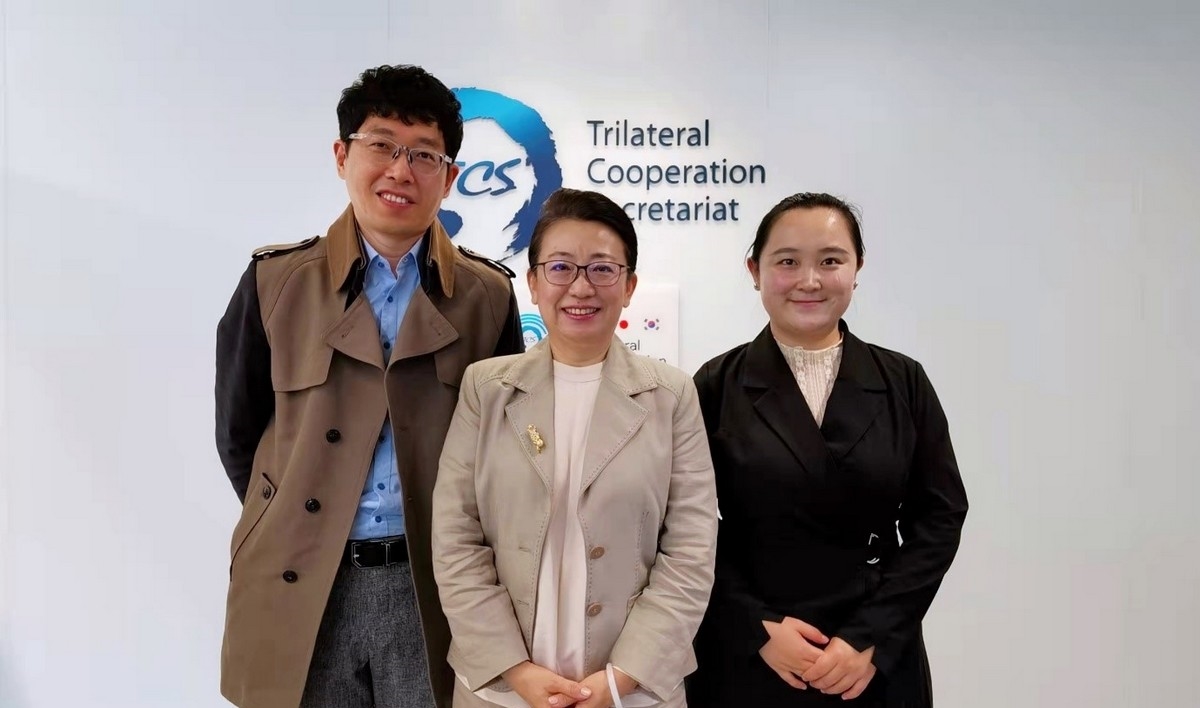 ▲From the Left to Right: Chief Correspondent YANG Ming, Secretary-General Amb. OU Boqian and Chief Correspondent LIU Xu